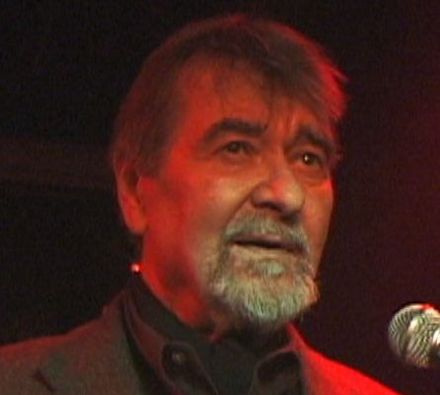 This site is organized by friends and fellows of our dear departed Giorgio who passed on January 13, 2016. There are many projects we hope to feature, even though most were unfinished: we know that he would not have approved of this during his lifetime, as he wanted writing and video about him to be highly polished, even if he was a diamond in the rough.
Put together by musician Dave Soldier and filmmakers Jon Sadlier and Beth Lasch, with web design by Detta Andreana: to add material contact davesoldier43@gmail.com.
Francis Dumaurier recently sent in two new photos and a copy of his newsletter, "Oh What A Night" covering a recent event in memory of Giorgio with high quality photos, direct access to streaming audio files of radio interviews and music videos mentioned. Francis has also written a book, "Giorgio Gomelsky 'For Your Love': The Incredible Life of a Music Impresario for the Rolling Stones, the Yardbirds & Magma". francisdumaurier.com

Giorgio Sergio Alessando Gomelsky (28 February 1934 – 13 January 2016) was a film maker, impresario, music manager, songwriter (as Oscar Rasputin) and record producer. He was born in Georgia, grew up in Switzerland, and later lived in the United Kingdom and for his last 40 years in a run down townhouse on west 24th street, where he lived on the top floor and ran the lower three floors as rehearsal and recording studios and often the ground floor as a club, sometimes called The Green Door. For a few years he made the rent by subletting the club once a week as a soft core S&M bar called Paddles. He constantly initiated new movements in rock, jazz, hiphop, mentored tons of musicians, artists and photographers, fought and made up with them, and left unfinished autobiographies, TV networks, recordings films, and theatrical shows.

He owned the Crawdaddy Club in London and was the original manager for The Rolling Stones, where they became the house band, and he often said the first concert had only 3 people in the audience and they managed to make the audience grow and grow: he introduced them to the Beatles, and was friends with the whole British rock scene, starting with Lonnie Donnegan and including Hendrix, with whom he had a nice dinner the night he overdosed. He hired The Yardbirds as replacement and managed them. He was also their producer from the beginning through 1966. In 1967 to 1969, he founded and ran Marmalade Records (distributed by Polydor), which featured "Julie Driscoll, Brian Auger and the Trinity", The Blossom Toes, and early recordings by Graham Gouldman and Kevin Godley and Lol Creme, who became 10cc. He also produced/ tour managed and guided if The Soft Machine, Daevid Allen and Gong, and Magma, and was a major supporter for the Plastic People of the Universe in Prague, and produced a concert at the Kitchen that helped them to become known in the West, which helped to start the Velvet Revolution. Moving to NY around 1977, he put together the influential band Material, and was instrumental for many, including D-Generation, the music series at Tramps and other clubs, and supported artists, politicians, graffitti artists, internet visionarys, and always musicians, indeed anyone trying something new and provocative.